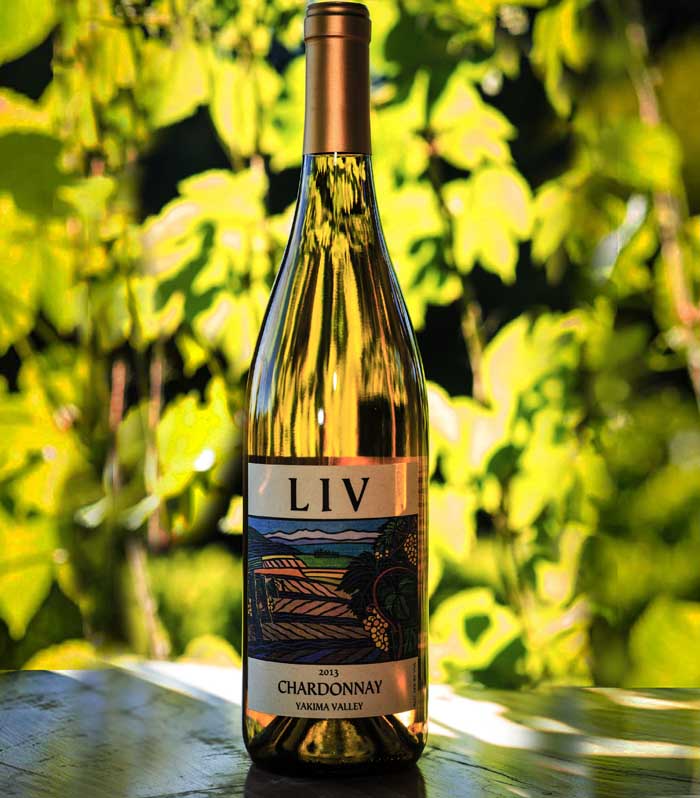 CHARDONNAY
Warm Vintage + Crisp Acidity = Food Friendly Wine!
2014- $18
In the winemaking for our Chardonnay, we strive to build upon the flavors that come from the grape itself. Of course, the grape lays the foundation, and is therefore responsible for the fruit quality of a wine. From the Yakima Valley location, we have the apple, pineapple and pear qualities typical of Chardonnay. A winemaker can choose, through the process of vinification, to hold a wine as close to the fruit as possible, or to add to those layers flavors and aromas from fermentation and processing; We choose the latter.
Beginning with the fruit, we choose the Home Vineyard at Charlie and Connie Crawford's farm in Yakima Valley.  This field is lower elevation, which receives a little more heat and is home to some healthy well cared for vines. We have found that the apple and pineapple qualities of this grape variety mature easily here.
To craft our style of Chardonnay, we like to build these layers carefully and with a gentle hand. We choose to barrel ferment our juice and then age the wine on the lees (sediment of the fruit and yeast). We follow this with an eight to twelve month aging in small oak barrels. These choices build a soft oaky flavor, with hints of vanilla, spice and bread yeast. Our use of only 20% new oak so that the wood flavor will be a nuance, a subtle intricacy to our wine, rather than a dominant flavor or aroma. We also use malo-lactic fermentation to soften the acidity and mouth-feel of the wine, which works to contribute a hint of a buttery note to the final symphony of flavors.
A wine such as this is more in the French style, relying not only on the terrior, or flavors coming from the vineyard, but on the winemaking process as well.
This wine is more food versatile than its fruity or oaky cousins; we recommend it with baked or barbequed fish, pork, or poultry. It will stand up to and compliment the smoke of a barbeque or the butter of a basting. This then will give a truly delightful sensory complexity for your nose.
2014 Vintage Notes: A cooler year relatively, this wine is brighter in its fruit qualities, with an acidity that helps it stand up to rich or fatty foods.  An excellent "go-to" for when you are looking for a complex white wine to pair with your meal.