Fireside Port
2015 Vintage- $28
How about a seat in front of the fire with a close friend, extra firewood on the hearth and a glass of our Fireside Port in hand?
 We produce the starting wine using Elephant Mountain grown Sangiovese grapes and Malbec from the Wahluke Slope. We then add artisanal brandy made for us by San Juan Distillery from a blend of our Yakima Valley Syrah and Merlot. This quality brandy is used to halt the fermentation process leaving only a soft sweetness that then lends itself to the symphony of flavors in our finished product.
The resulting unique wine has aromas of raspberry, butterscotch, smoke, and candied cherries, which is followed on the pallet with smooth ripe raspberry fruit, butterscotch caramels, smoky oak and a soft mildly sweet finish.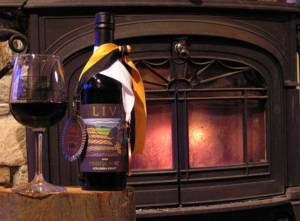 ORDER