Siegerrebe 2016 "Futures"
We are moving towards bottling our limited, but exceptional 2016 Siegerrebe; the harvest was down last year, but the grapes ripened perfectly.  Let me describe the wine to you, fresh from the tank: aroma of peach, litchi fruit and rose, with flavors starting with litchi, grapefruit, honeydew melon, and then closing with a long lingering aromatic finish and a pleasant crisp acidity.
As in past years, we are once again offering "Futures" on case purchases of this wine.  This means we extend to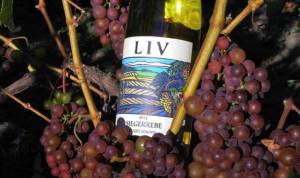 you a discount of 25% if you purchase the wine now, for delivery once it is bottled; this helps us to purchase bottles and labels, while extending to you a chance to get this wonderful vintage and an extra discount.   This offer is good until February 20th.
This vintage is limited, only 125 cases; we expect it to sell quickly.  To order, you can send us an email from our Contact Page or call us at 360-468-3644; we will contact you to set up payment and delivery.  You can use the order form and payment system on this website, but it won't extend this extra discount, so we encourage you to respond directly.  (If you use the order form, we will make arrangements with you to refund the extra discount- please note you want the 2016 vintage)
We will be bottling this wine soon.  In the meantime, and for the next few months, our 2015 vintage of Siegerrebe is still available, so we are happy to ship or meet you at the winery to deliver this vintage to directly to you.
CAPITAL FOOD & WINE FESTIVAL
Saint Martin's College, Lacey WA, March 25th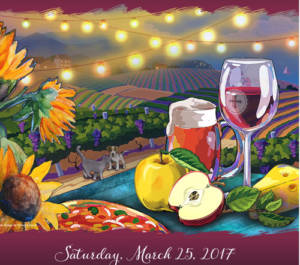 Capital Food & Wine Festival is a popular community celebration that has much to offer those who attend. The Festival is managed by a mostly all-volunteer committee of alumni, friends, University staff and other members from the greater community. At this year's 28th annual festival, patrons can sample and taste:
 Lopez Island Vineyards will be there with our new release of 2016 Siegerrebe & 2016 Rose.
 More than 100 varietal and blended wines from Washington State wineries.
 Food favorites from local restaurants.
 http://capitalfoodandwinefestival.com/
Great Pairings – Food and Wine Benefit for Lopez Children's Center
May 20, 2017, 6:00 p.m.
Award-winning winemaker Brent Charnley presents five of Lopez Island Vineyards wine releases paired with 5 food courses, each created and prepared by one of your favorite local chefs to complement each wine. Lots more fun, auctions, entertainment and more. Call Lopez Children's Center at 360-468-3896 or visit Paper Scissors for reservations.
Sponsored By: Lopez Center for Community and the Arts
Website: http://www.lopezcenter.org/goto.php?page=details&item=1781