For the most recent news on Events, Tastings and other happenings, follow us on FACEBOOK.
Please see our Tasting page for details.
Raspberry Wine is Back!
We are pleased to announce that we have bottled our 2017 Raspberry Wine and it is now available!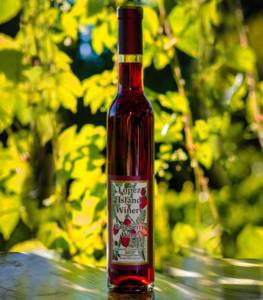 Tastes like a handful of fresh raspberries! Crafted for celebrations, this wine pairs beautifully with ANY chocolate dessert and of course a luscious slice of cheesecake. We use only Organically Grown Raspberries produced in the Puget Sound area. We finish this wine with a pleasant sweetness to balance the crisp acidity.
You can taste this new release at our Tasting Room or at the following Holiday Farmer's Markets: Lake Forest Park, Everett and Anacortes.
We will also have Raspberry Wine Filled Chocolates for pairing with this wine at these markets!
Recent Wine Awards
SAVOR NORTHWEST WINE JUDGING–  Siegerrebe 2015 GOLD, Sangiovese 2014 GOLD, Madeleine Angevine 2015 SILVER
CAPITAL FOOD AND WINE FESTIVAL– Rose 2016 GOLD- BEST ROSE; Siegerrebe 2016 GOLD, Merlot 2013- SILVER
GREAT NORTHWEST WINE REVIEWS– Madeleine Angevine 2015 OUTSTANDING! (GOLD)