OUR WINE MAKER
My interest in winemaking and organic farming began as a college student in 1977; I had been drawn to farming as a trade through my interest in the Back to the Land movement and I had begun home winemaking as a homestead skill. With a strong heart-felt connection to Lopez Island which I had developed as a child, I knew early on that I wanted to make Lopez Island my home.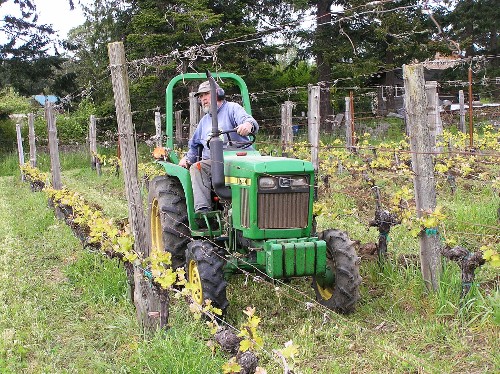 Casting my eyes homeward and to Lopez, I began wondering if grape growing could work here, so I looked for ways to learn more about these crafts and arts. I enrolled at UC Davis in 1981 and created an individual major (first of its kind) studying both winemaking and grape growing. Graduating with high honors in 1983, I returned to Washington and accepted a job with Mount Baker Vineyards, so I could work with grapes that were suited to the Puget Sound region. My winemaking skills have been honed through working in the industry, from Napa Valley to Bordeaux France, now over 30 years of hands on study, work and effort. While I tend to be more humble and demurring about myself, I feel I have finally found my groove and now consider myself an Elder, one to whom others look for my quality products. The numerous awards on my wines attest to these years of learning: well over 100 medals and accolades.
These dreams and desires began to coalesce in 1979 while hitchhiking through France. I serendipitously found an opportunity to work on a vineyard in the Bordeaux region. After spending a growing season with Peter and Fox King (my generous mentors), I began learning pruning, tractor driving and other farming skills. I quickly found I was in love with growing grape vines!
My personal interests include gardening, sailing, skiing, archery, hiking, painting and drawing. I consider myself extremely lucky to have found these passions and to have integrated them into my livelihood. I love to share my skills and knowledge with young folks and older; we often have apprentices or our own grown children helping us with grape growing and wine making.
WINE MAKING AND VINEYARD CONSULTING
Master Winemaker Brent Charnley is available for advice, planning, and implementation of solutions for your winemaking and grape growing needs. Brent's expertise and specialty is in organic and sustainable production for vineyards or wine.
EcosOenos—Personalized assistance and consulting for the vineyard and winery, with the environment in mind.
Specialized solutions for your business come from site visits and interviews, which result in recommendations tailored for your unique location and wines. Investment in knowledgeable help will save you money by avoiding costly mistakes and learning the critical steps and planning needed to produce the quality you desire.
Mentoring: Hands on instruction, one on one, is a fast way to learn the skills you need. Over 30 years of experience and education will help you make the leaps in expertise that will benefit your own education and learning.
Resumé and recommendations available. Contact Brent Charnley at 724 Fisherman Bay Rd, Lopez Island WA 98261; 360.468.3073 or: winery@lopezislandvineyards.com or use our handy form here on the site.