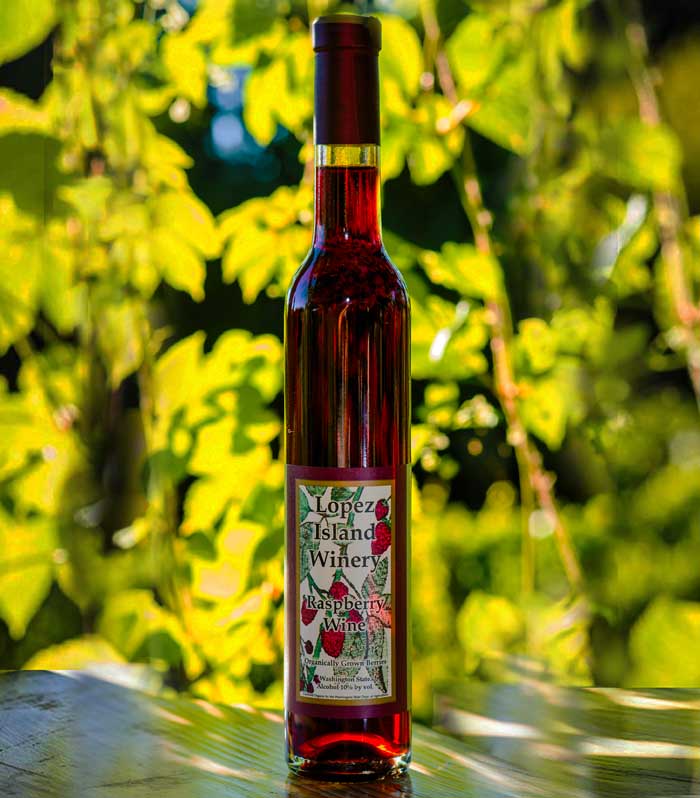 RASPBERRY WINE
Sweet Taste of Summer: Made from organically grown raspberries , this wine tastes like a handful of fresh berries. This wine is finished with enough sweetness to be delicious served with chocolate or cheesecake, but yet it still has a crisp acidity so that it finishes clean on the palate.
We source our berries from the Broer's Family Farm near Monroe Washington.  This organically certified farm is carefully and lovingly farmed by this family, which has had this farm in the family for multiple generations.  Frozen right after harvest, we bring the berries to Lopez, allowing us to preserve that field ripe flavor for our wine.  Available in the half bottle only.
We take to making our fruit wines very carefully: it is made to be a food wine, balanced and expressing the fruit from which they come. In the finish, we want them to taste like a handful of fresh berries might: full of flavor, sweet, but tart and refreshing, and never syrupy.
Our Raspberry wine is made from organically grown berries and we use a much higher percentage of berries in our wine than is common in the industry. Juice is extracted and fermented cool, bringing forth the strongest of aromas and flavors.
This popular wine is back just in time for your celebratory meals of the fall and winter! We highly recommend pairing this wine with fruit-based desserts (apple pie), cheesecake or with chocolate (darker the better!).
2017 Vintage Notes:  Newly Released!  Please contact us so you can enjoy this wine for the upcoming Holiday Season celebrations so that you don't miss out….