Siegerrebe


2016 -$25 Serve well chilled
Siegerrebe (Zee-gar-RAH-beh) a grape bred in the Alsace region of Germany by crossing the Madeleine Angevine grape with the Gewurztraminer grape. In our vineyard this "Zieggy" is the precocious one, ripening a good two weeks earlier than Mad Angie!
This white wine has wonderful complex floral aromas with flavors of grapefruit, litchee, and a notable spicy finish. Siegerrebe finishes off-dry (about 1 % residual sugar) making it great with appetizers and Asian cuisine and curries.
 Preparing for a "Zieggy" bottling often involves repeatedly tasting, more so than with the others, to make sure everything is just right. Siegerrebe rarely disappoints and this vintage is no exception: Long after a sampling, I find that the after-taste of the wonderful litchi, grapefruit and spice is still lingering on my palate, sometimes 30 minutes later!
We strive for balance with this wine: A crisp acidity to allow the wine to pair with food, a faint and mild sweetness to allow for straight sipping or to temper the hot of spicy foods. This vintage is an excellent example of this style of wine and what this variety can achieve!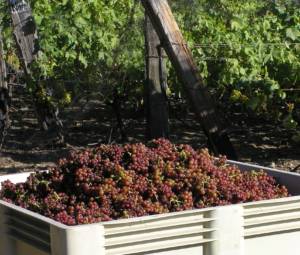 2016 Vintage Notes:  An exceptionally warm year, with ideal conditions at bloom, produced a lush bountiful vintage.  Our 2016 has been awarded both a Gold and Silver medals.
 NEARLY SOLD OUT- Purchase your own stash now!
Certified Organically Grown by Washington State Dept. of Agriculture.
GOLD AWARD- Capital Food & Wine Festival 2017