Summer in the Vineyard Garden-
Join us for Wine by the Glass and relax in our Vineyard Garden.  Specialty cheese plates are available purchase.
Saturday September 2nd:
2 to 4 pm
Sunday September 3rd:
2 to 5 pm
Please note: No tasting available during our Summer in the Vineyard Garden event.  Please visit us at one of our Farmer's Markets for tasting a flight of our wines; see below.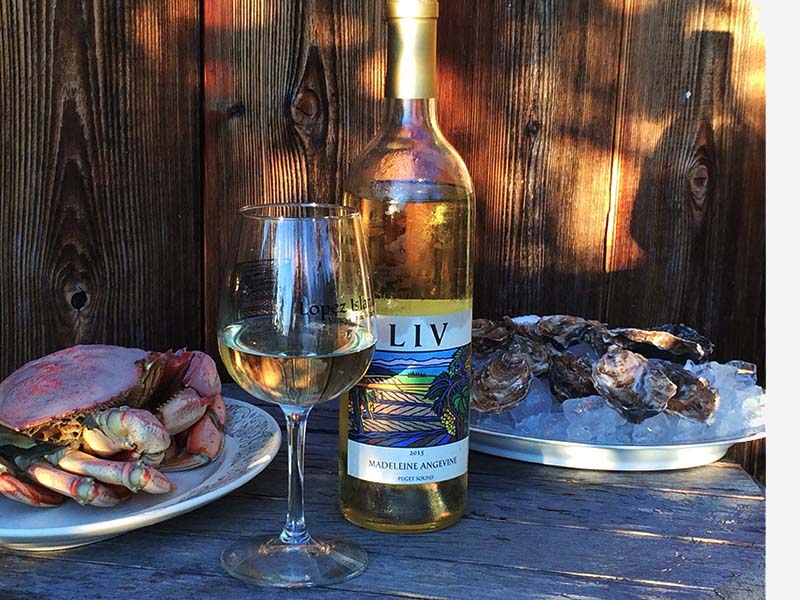 Fall Tasting Room Hours-
Our Winery tasting room will be open for tasting beginning Saturday Sept. 12th.  Hours will be Saturdays only, 2 to 5 pm for the month of September.
LIV at LOCAL FARMER'S MARKETS
SATURDAYS: Lopez Island Farmer's Market
10am – 2 pm
May 20th thru Labor Day Weekend.
This is where we now "hang our shingle!" So all you Lopez Vineyard fans can sample our latest vintages and pick up a bottle. Those that want to pick up their case let us know and we will have it there ready and waiting for you!
You can also find us on the mainland…
LIV(Lopez Island Vineyards) is well represented:
SATURDAYS:
Anacortes FM 9-2pm  & Edmonds FM 9-3pm
SUNDAYS:
Lake Forest Park FM 10-3pm & Everett FM- 11-4pm
SPECIAL EVENTS AT THE WINERY
LIV Annual Grape Harvest Party
Join us for a morning of picking grapes, followed by complimentary lunch and wine!  Many hands make light work and harvesting grapes is a wonderful experience.  Please use our contact form to let us know of your interest and we will add you to our email notification list.
Harvest of Siegerrebe will be around the 10th of September, Madeleine harvest approximately the 24th.  THESE ARE ESTIMATES ONLY!  
We Currently have no scheduled tours and tastings -please check back for updates. 
When we have tastings, you an reserve and prepay for your tour by using our reservation form below.
***************************************************************
WINE CASE SALES by Appointment anytime- please call us at 360-468-3644 and text us at 425-210-2682.  Please leave a message.
PRIVATE TOURS and TASTINGS are available at other times by appointment only- 10 or more people – $15/person
When visiting Lopez Island, you can fine our wines at: 
Blossom Natural Food Market, Lopez Village Market and The Southend Store.  Most all our wines are also available in San Juan Islands at numerous retail outlets, restaurants, and look for us in Anacortes too!