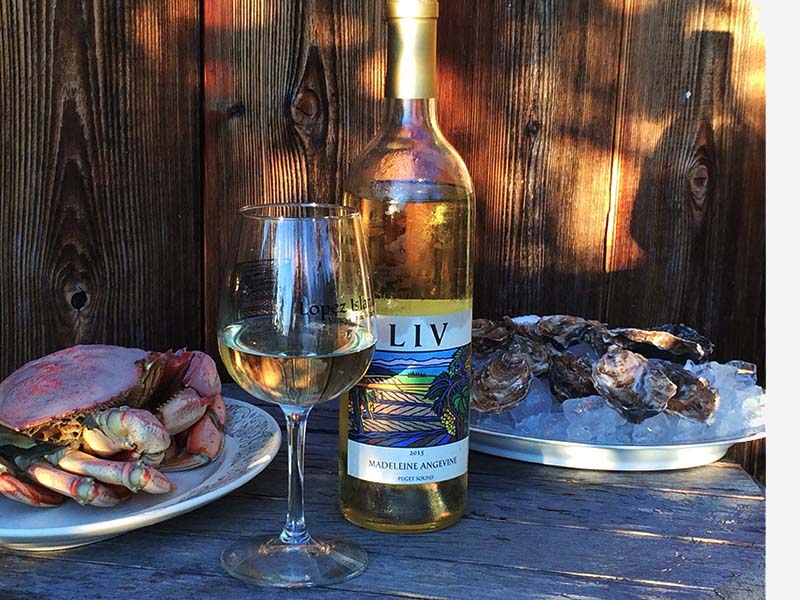 LIV at LOCAL FARMER'S MARKETS
SATURDAYS: Lopez Island Farmer's Market
10am – 2 pm
May 20th thru Labor Day Weekend.
This is where we now "hang our shingle!" So all you Lopez Vineyard fans can sample our latest vintages and pick up a bottle. Those that want to pick up their case let us know and we will have it there ready and waiting for you!
You can also find us on the mainland…
LIV(Lopez Island Vineyards) is well represented:
SATURDAYS:
Anacortes FM 9-2pm  & Edmonds FM 9-3pm
SUNDAYS:
Lake Forest Park FM 10-3pm & Everett FM- 11-4pm
SPECIAL EVENTS AT THE WINERY
HUMBLE BOY- July 14-15 Friday & Saturday (doors open at 7PM curtain at 8PM)   
this years' offering from Island Stage Left                                (not Shakespeare this year)
suggested donation-$15 per person     
I have witnessed many renditions of modern plays performed by them during the winters up here in the islands. The new plays are equally as engrossing and of the finest articulation  anywhere…we are truly fortunate they steer their ship our way every year for the last 18 years. Please if you are on the island think about attending another extraordinary production in the LIV Garden, outside under the stars(hopefully)  Always a memorable evening….. Maggie
 Summer  WINE Tour & Tastings with the Winemaker 
As we are lightly staffed this year we will hold "Pop-Up" Tour & Tastings at the winery when we are available. Check our website or FB weekly to see T&T times…
.Next Scheduled tour and tasting is June 14th, 3 pm only. 
When we have tastings, you an reserve and prepay for your tour by using our reservation form below.
***************************************************************
Other surprises!!
-Vertical LIV CABERNET SAUVIGNON TASTING- Date TBA
–LIV WINE & Light Appetizer Pairing – Date TBA
-& maybe some other surprises….
WINE CASE SALES by Appointment anytime- please call us at 360-468-3644 and text us at 425-210-2682.  Please leave a message.
PRIVATE TOURS and TASTINGS are available at other times by appointment only- 10 or more people – $15/person
When visiting Lopez Island, you can fine our wines at: 
Blossom Natural Food Market, Lopez Village Market and The Southend Store.  Most all our wines are also available in San Juan Islands at numerous retail outlets, restaurants, and look for us in Anacortes too!